Butternut Squash is not to be underestimated. Its funny shape makes it difficult to cut and it has a mega thick skin that requires a fair amount of time to peel. But do not let that deter you from making this salad! Pay a couple of extra bucks to get it already peeled, diced and ready to go. (It will save you lots of time!) Or pull the guys away from the TV to help you prep. Trust me, it is worth the extra effort!
This salad is the perfect first course to a special occasion or holiday dinner. It's the kind that you talk about for many moons after. The men in my family were still gushing about it several days after Thanksgiving—yes Thanksgiving, when there are a million of other delicious dishes competing for attention. Yep, it was a dang good salad my friends.
Seriously, how gorgeous is this salad? The roasted butternut squash is the star here. But combined with candied nuts, a little bit of cheese, cranberries and a warm apple cider vinaigrette, the result is positively delicious.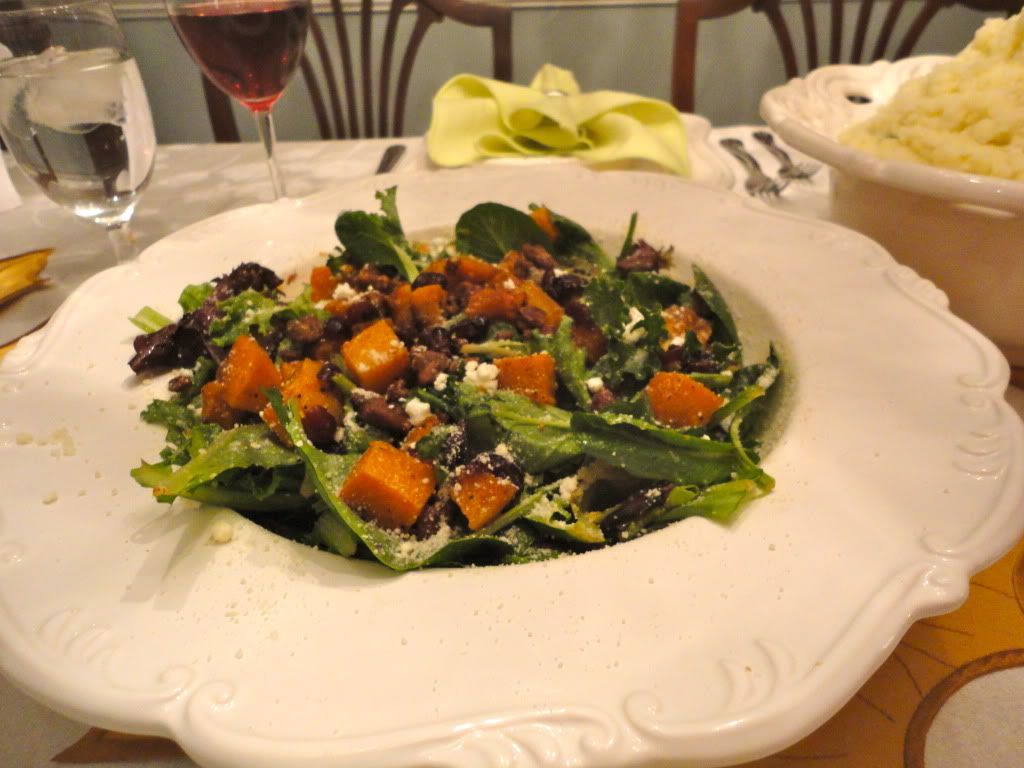 Roasted Butternut Squash Salad with Warm Apple Cider Vinaigrette
Adapted from Brown Eyed Baker & The Barefoot Contessa
Yield: 4-6 servings
Ingredients
1 (1 to 1½-lb) butternut squash, peeled and diced
2 tablespoons + ½ cup olive oil, divided
1.5 tablespoon maple syrup
2 teaspoons kosher salt, divided
1 teaspoon ground black pepper, divided
¼ cup dried cranberries
¾ cup apple cider (can substitute apple juice)
2 tablespoons apple cider vinegar
2 tablespoons minced shallots
2 teaspoons Dijon mustard
1 tablespoon honey
Arugula or mixed greens
¾ cup candied walnuts (or pecans)
¼ cup goat cheese crumbles (optional)
¼ cup grated Parmesan cheese (optional)
Preheat oven to 400 degrees. Place the butternut squash on a sheet pan. Drizzle with 2 tablespoons olive oil, the maple syrup, 1 teaspoon kosher salt and ½ teaspoon black pepper. Toss to evenly coat the butternut squash. Roast for 15 minutes, turning once. Add the cranberries and roast 5 more minutes.
While the squash is roasting, prepare the dressing. Combine the apple cider, apple cide vinegar and shallots in a small saucepan and bring to a boil over medium-high heat. Cook for 6 to 8 minutes, until the cider is reduced to about ¼ cup. Remove from heat, whisk in the mustard, ½ cup olive oil, 1 tablespoon of honey, 1 teaspoon kosher salt and ½ teaspoon ground black pepper. Prepare to be delighted!
Hope everyone had a fantastic Thanksgiving! Mine was a dream as always thanks to my amazing mom who spent days in kitchen for days making things like Caramel Apple Cheesecake Pie! But that's for another day...
Thanksgiving is the best. It's always been up there with my favorite holidays because it's all about friends, family, fabulous food, and expressing gratitude for all of the amazing blessings that we have. This year I'm especially grateful to my Heavenly Father to be living in Charlottesville, which has to be one of the cutest towns in the world, living close to my parents, having a great full time job in my field, and having lots of time to spend with my husband while he trudges through medical school.
I'm also grateful for having extra time to devote to this blog—for the chance to share lots of my favorite recipes as well as a glimpse into my life with all of you! Thank you for taking a bit of time out of your day to check out what I'm all about. Looking back on my
first post
a little over a year ago, I am so excited to see how far i've come as a baker, blogger and food enthusiast. Thank you for your love and support! It means the world!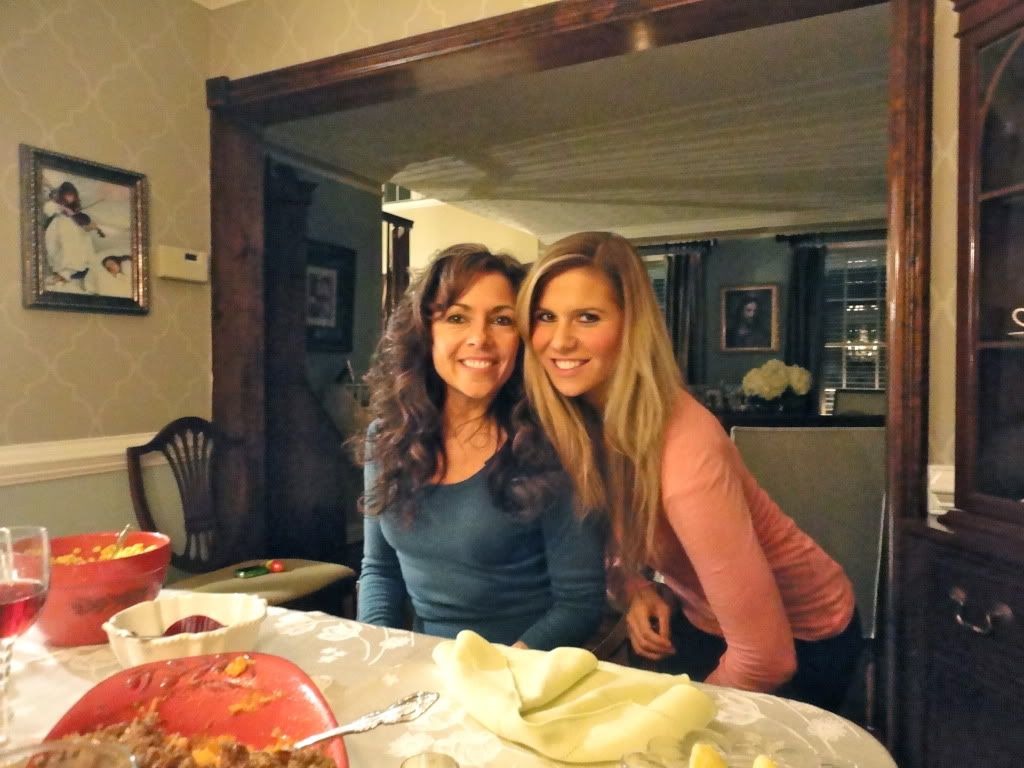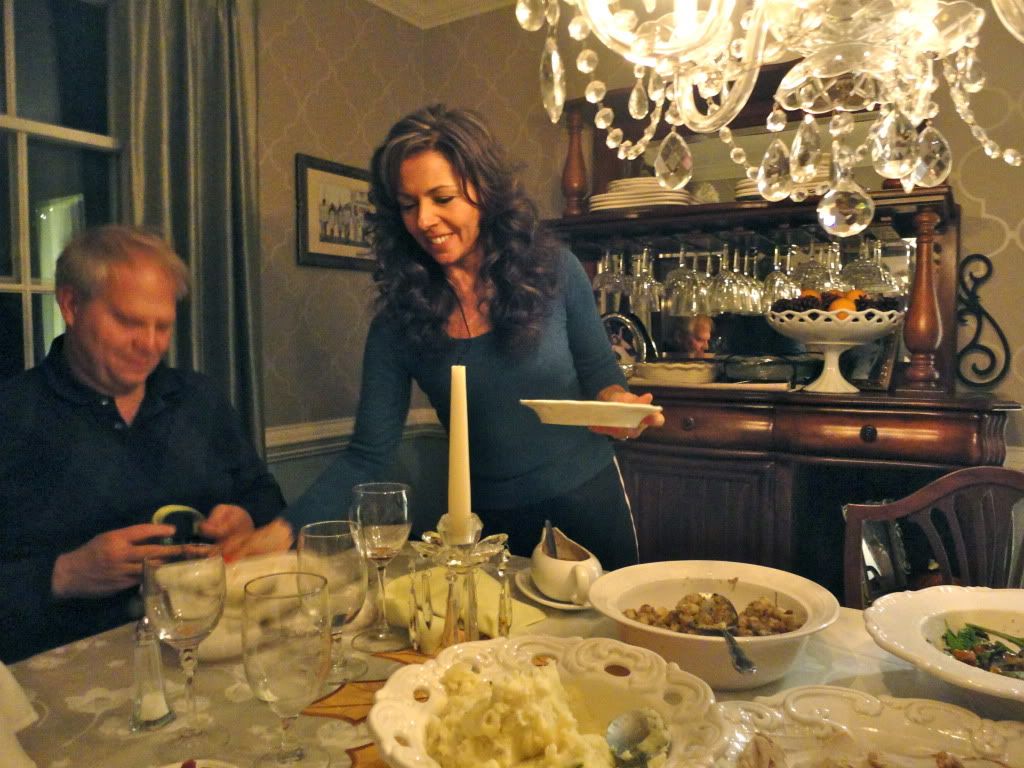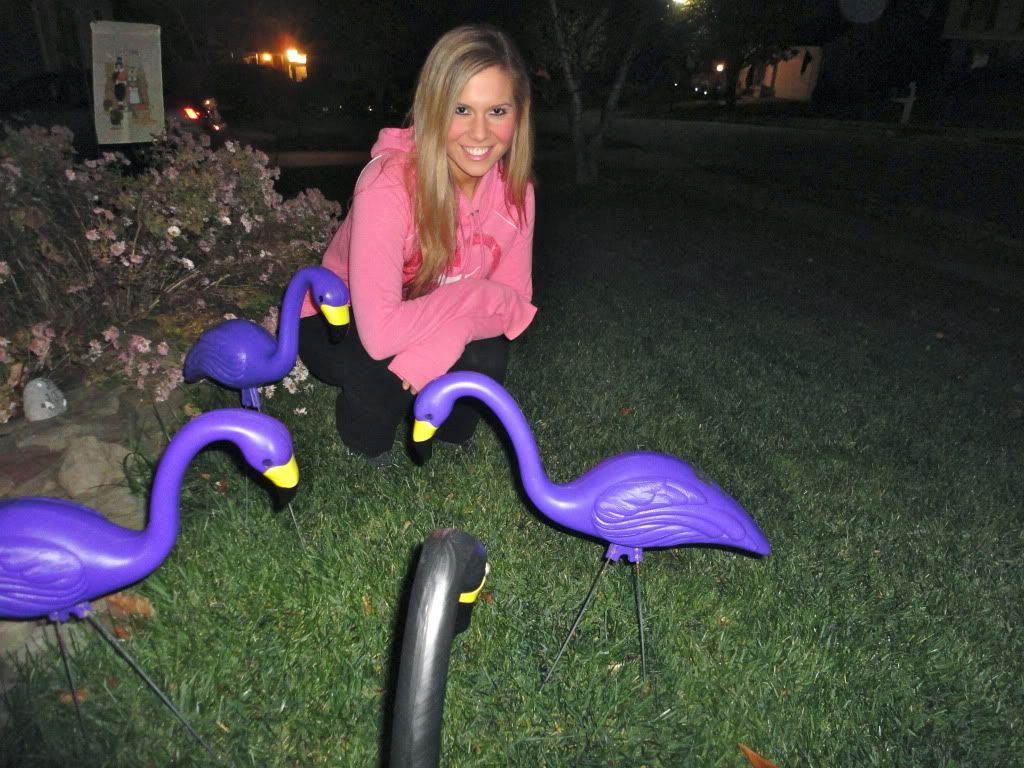 Had to throw a little love for the Ravens in there! These tacky purple flamingos are all over Baltimore. We spent the better part of the morning having a little family Turkey Bowl. So fun!